The impact of nutrition on health and disease is an important area of veterinary science. By paying attention to the nutritional needs of our patients, we can maximize their health, performance and longevity. We can also use nutrition as a cornerstone in treating medical conditions such as kidney disease, gastrointestinal disease, obesity, or skin disease.
Recently our team met with members of the Cardiology Service to draft an important statement about a 'hot topic' in the news: the relationship between a serious heart condition and pet food. Read more about it at this link: Is there a potential link between dog food and heart disease?
The Clinical Nutrition Service is comprised of Dr. Sarah Abood, Assistant Professor, and Dr. Sarah Dodd and Dr. Caitlin Grant (graduate students and residents in nutrition). Dr. Adronie Verbrugghe is the Service Chief and Assistant Professor in Clinical Nutrition. Our Service works closely with other clinical Services at the Ontario Veterinary College Health Sciences Centre (OVC HSC) to assess the nutritional needs of patients, as well as to develop appropriate diet plans for patients during hospitalization and/or recovery at home.
Options Available to Veterinarians
The Ontario Veterinary College is one of two veterinary schools in Canada with a Clinical Nutrition Service. Unfortunately, at this time, we do not have the resources to offer consultations to non-OVC clients.
We understand that a complete and balanced homemade diet is of the utmost importance, so we've listed some options below for non-OVC clients. A complete list of board certified nutritionists can be found at the American College of Veterinary Nutrition (www.acvn.org):
What does the Service offer for OVC clients?
Optimal commercial diet and dietary supplement selection for specific medical conditions
Nutrition support for critically ill patients, including tube feeding and parenteral nutrition (i.e. intravenous nutrition)
Evaluation and formulation of homemade diets
Customized weight loss plans
Customized nutrition programs for different life stages, reproduction, performance, etc.
The initial appointment will take 60-minutes and includes:
Review of the pet's dietary history
Review of the pet's medical history and diagnostics
Body condition and muscle condition scoring
Discussion of pet owner concerns
Determining key nutritional factors for the patient
Determining energy requirements for the patient
Discussion of dietary options for the patient (e.g. commercial diet, homemade diet, or in some cases a combination of both)
Members of the Clinical Nutrition Service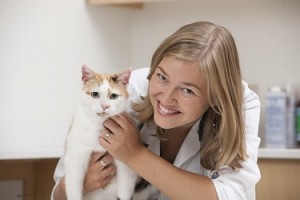 Dr. Sarah K. Abood, DVM, PhD
Assistant Professor, Clinical Studies
Following my veterinary training, I completed a one-year internship in large animal medicine and surgery at the University of Minnesota. Under the guidance of Dr. Tony Buffington at The Ohio State University, I completed a clinical nutrition residency and PhD. From 1994 to 1999 I worked as a nutrition scientist at the Ralston Purina Company, followed by a 16-year stint at Michigan State University as Assistant Dean for Student Programs and the small animal clinical nutritionist. I joined the Clinical Studies Department at the University of Guelph in June 2018 where my focus is providing nutrition consultations for in-hospital patients, teaching nutrition to veterinary students, and collaborating on nutrition projects with faculty and graduate students.
My research interests include nutrition support of hospitalized patients, obesity prevention and management, communication skill building, client adherence, alternative diets, veterinary ethics and welfare issues, and business skills and professional development.
Mazaki-Tovi, M., Abood, SK, Kol A, Farkas, A, Scheck, PA. Increased serum concentrations of adiponectin in canine hypothyroidism. The Veterinary Journal, 203:253-255; 2015.
Grand, JA, Lloyd JW, Ilgen DR, Abood SK and Sonea IM. A Measure of and Predictors for Veterinarian Trust Developed with Veterinary Students in a Simulated Companion Animal Practice. JAVMA, 242:322-334; 2013.
Abood, SK and Siegford, JM. Student Perceptions of an Animal-Welfare and Ethics Course Taught Early in the Veterinary Curriculum. Journal of Veterinary Medical Education, 39:136-140; 2012.
Mazaki-Tovi, M, Abood, SK and Schenck, PA. Effect of Omega-3 Fatty Acids on Serum Concentrations of Adipokines in Healthy Cats. American Journal of Veterinary Research, 72:1259- 1265; 2011.
Holahan M, Abood S, Hauptman J, Koenigsknecht C, and Brown A. Intermittent and Continuous Enteral Nutrition in Critically Ill Dogs: A Prospective Randomized trial. J Vet Intern Med, 24:520- 526; 2010.
Abood SK. Teaching and Assessing Nutrition Competence in a Changing Curricular Environment. Journal of Veterinary Medical Education, 35(2):81-287, 2008.
Laflamme DP, Abood SK, Fascetti, AJ, et al. Pet feeding practices among dog and cat owners in the United States and Australia. JAVMA, 232:687-694; 2008.
Dr. Sarah Dodd, BVSc, MSc
PhD student and Clinical Nutrition Resident for the European College of Veterinary and Comparative Nutrition (ECVCN)
Dr. Sarah Dodd graduated as a veterinarian from Massey University in New Zealand in 2016. Thereafter, she completed a Masters degree at OVC while concurrently serving as a Clinical Nutrition intern in the Companion Animal Hospital. Dr. Dodd is now enrolled in a PhD and is a resident of the European College of Veterinary and Comparative Nutrition. Her research focus relates to plant-based nutrition for dogs and cats, which is a relatively new and very under-explored area of nutrition science. The health benefits of plant-based diets are widely celebrated for humans, however very little data is available about the use of these diets in facultative and obligate carnivores, leaving some pet guardians with more questions than answers at this point in time.

Dr. Caitlin Grant, DVM, BSc
DVSc student and Clinical Nutrition Resident for the European College of Veterinary and Comparative Nutrition (ECVCN)
Dr. Caitlin Grant is originally from Markham, Ontario and completed her undergraduate degree in animal biology earning a BSc at the University of Guelph. She then attended the Ontario Veterinary College and graduated with honors in 2014. After graduation, Dr. Grant became an associate veterinarian in a private, mixed animal practice in Woodstock, Ontario working with mostly canine, feline and bovine patients. Dr. Grant thoroughly enjoyed her time in private practice, especially the daily interaction with clients and their pets, as well as the opportunity to strengthen the veterinary-client relationship. Dr. Grant had an interest in nutrition before she became a veterinarian, and this interest grew during her three years in private practice. Nutrition plays a vital role in the health and well-being of animals and this was seen daily in appointments with small animals as well as on the farm with food production animals. Dr. Grant made the decision to return to the Ontario Veterinary College and is now completing a DVSc degree and is a second year Resident of the European College of Veterinary and Comparative Nutrition (ECVCN). She is spending her time helping to run the Clinical Nutrition service at the Ontario Veterinary College and is conducting research in the field of companion animal nutrition, specifically looking at intake of essential nutrients in obese cats that are energy restricted for weight loss.